HABIB PHYSIOTHERAPY COMPLEX

Habib Physiotherapy Complex has gone through a number of structural changes before it started to function as a full-fledged Physiotherapy Complex. It started on 3rd February 1989 to work as a Physio-Care Free Polio Clinic at Peshawar Medical Center, Peshawar, where it provided free of cost facilities for polio affected children and arranged free polio camps on monthly basis. Later, in the form of Physio Care the Disabled Welfare Association Physiotherapy Clinic was registered as NGO with the Social Welfare Department NWFP on 28th November 1992, under Registration No. DSW/NWFP/69.

In 1998, it started to function as a comprehensive Rehabilitation Complex for the physically disabled persons with 15 Beds facility for indoor admissions, as a Center for monoplegic, hemiplegics and paraplegic patients and other physically disabled personals. Currently, it is functioning as a full-fledged physiotherapy treatment hospital (Habib Physiotherapy Complex) along with academic institute in physiotherapy (Mahboob College of Physiotherapy) located in the prime location of phase 5, Hayatabad, Peshawar, easily accessible from all parts of the city.

MAHBOOB COLLEGE of PHYSIOTHERAPY
The Mahboob College of Physiotherapy was established in 2000 for preparing skilled manpower. The CAR, IRC, UNHCR, SDC sponsored students were given trainings of 6-18 months in physiotherapy. Now it is recognized institute affiliated with Medical Faculty & Skill Development Council NWFP.

We are affiliated with Khyber Medical University, Peshawar, registered with Faculty of Paramedics and Allied Health Sciences, Khyer Pakhtunkhawa and Official Diploma Trainers for FATA and NAVTTC.

Now Mahboob College of Physiotherapy offers;

1. Doctor of Physiotherapy (5 years Program)

2. Post Professional Doctor of Physiotherapy (2 Year Program)

3. Additional Doctor Of Physiotherapy (condence Course)

4. BS Medical Lab Technology (4 years)

5. BS Prosthetics & Orthotics (4 years)

6. BS Psychology (4 years)

7. Diploma in Physiotherapy (2 years)

8. Diploma in Pathology (2 years)
Collaborative Partners
United Nations High Commissioner for Refugees (U. N. H. C. R.)
Commissioner Afghan Refugees
U. A. E. Red Crescent
Sh. Khalifa Foundation, U. A. E.
International Committee of Red Cross (I. C. R. C.)
Government of Khyber Pakhtunkhawa
SAFRON - Government of Pakistan
King Abdullah Relief Campaign for Pakistani People
Gandhara University Peshawar
Registered with Higher Education Regulatory Authority
Khyber Pakhtunkhawa
Affiliated with Khyber Medical University, Peshawar
Fata Development Authority.
National Vocational Technical Training Comission. NAVTTC.
News & Updates
Free camp at Mathra . Peshawar where Habib Physiotherapy complex
and ICMS Lions Club jointly arranged this camp . Diabetes.CVA RA OA
and multiple casses
17th February 2022
Lecture for DPT students on
Prevention of Hepatitis
Guest speaker Dr Imran Ullah, AP HMC
8th March 2021 Women day celebration by MORR.
at Peshawar. where Afghan council
General Najeeb ullah Ahmadzai. was chief Guest.
i also parcipated as Guest Speaker.
Admissions Open ("DPT", "BS-MLT", "BS- P&O")
CEO Health Care Commission KP,
Dr Maqsood Ali inaugurated 2 days capacity building training,
on Child Protection and Inclusion, Arranged by HI And CHIP.
DAILY DAWN 16/3/ 2020, Inclusive Education plan for KP
https://www.dawn.com/news/1541204
Experts show concerns over rising disabilities among children
https://www.dawn.com/news/1524268?fbclid=IwAR0CtwNq3zn0n9DvhN3rhcIKabrmcvOZuJ7S-MZkk68CmryDQ_RjSxNP6Iw
ADMISSIONS OPEN 2019
BS PSYCHOLOGY 4 Years Degree Program
BS P&O 4 Years Degree Program
Physiotherapists perturbed by govt's move to treat them as paramedics
Interview 19th August 2019 Dawn News by
Chairman Dr. Mahboob ur Rahman Mahboob Medical Institute
https://www.dawn.com/news/1500306/
physiotherapists-perturbed-by-govts-move-to-treat-them-as-paramedics
UNHCR CHIEF visit to
Mahboob Medical Institute
Habib Phyisotherapy Complex
A Gracefull event of EID MILAD UN NABI (SAW)
Dr. Mahboob Ur Rahman
Chairman MMI.
World Physiotherapy Day at MMI, 8th Sep 2018
Chief Guest Mr. Mahmood Jan Khan
Deputy Speaker KPK Assembly
Admission announcement for session 2018-19
Oath Taking Ceremony PPTA KP Chapter
at Mahboob Medical Institute (MMI) Peshawar
Cheif Guest - DG Health Khyber Pakhtunkhawa
K. M. U., I. C. R. C. and Special Eudacation Representatives attend the Ceremony as well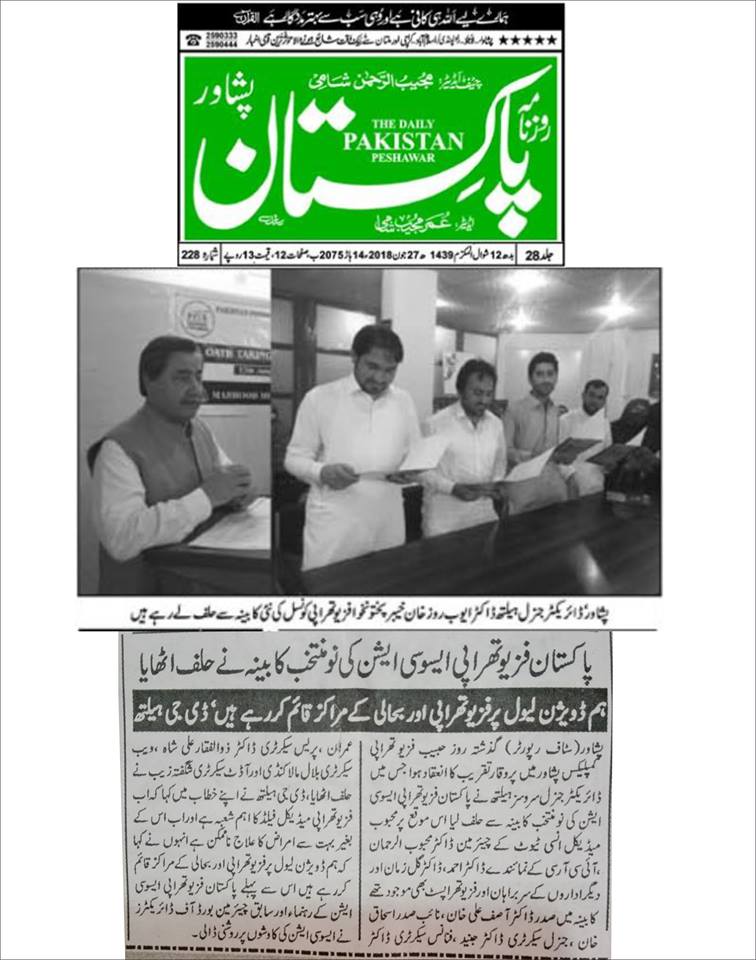 World Refugees' Day
An Article by the Chairman Mahboob Medical Institute
Dr. Mahboob ur Rahman
Published on 21st Feb. 2018 in Daily Pakistan

Spring Festival at
M. M. I.

https://www.facebook.com/photo.php?fbid
=2014167922138885&set=pcb.
384580328688678&type=3&theater

https://epaper.dawn.com/DetailNews.php?StoryText=11_03_2018_183_003


Dr. Mahboob ur Rahman Services Recognition
by
KPK News & Entertainment
http://www.kpkworld.com/2018/03/06/a-legend-of-physical-therapy/

Muscle Power Evaluation And Therapeutic Chart (MPET Chart)
Published by Post Polio Heath International
http://www.polioplace.org/living-with-polio/muscle-power-evaluation-and-therapeutic-chart-mpet-chart
Pride for Habib Physiotherapy Complex
Services Acknowledged by www.globalhand.org
http://www.globalhand.org/en/
browse/regions/Asia/all/organisation/
44622#.V1ujBRZNx2w.facebook



Another Achievement
to be Member of Khyber Medical University, Peshawar
/admin/assets/files/CONGRATULATIONS.pptx

http://epaper.dawn.com/DetailNews.php?StoryText=05_01_2016_183_003
SAUDI FUNDED HOSPITAL to PROVIDE FREE PHYSIOTHERAPY SERVICES

World Physiotherapy Day was observed
on 8th Sept. 2015
Organized by Pakistan Physiotherapy Association of Pakistan
& International Committee of Red Cross
with collaboration of Mahboob School of Physiotherapy - Peshawar
/admin/assets/files/Int%20Day(1).docx


World Phyistherapy Day - 2015;
Press Coverage by The Daily News
http://www.onlineindus.com/world-physiotherapy-day-to-be-observed-on-sept-8/
MAHBOOB SCHOOL OF PHYSIOTHERAPY – PESHAWAR
Organization for Relief, Rehabilitation and Education in Rehabilitation Sciences

ANNUAL REPORT - 2014
(Please click here)
/admin/assets/files/Activity%20
Report%202014(1).docx


Physiotherapy Services at 20 DHQ Hospitals Planned
Published in the DAILY DAWN dated 9th Nov. 2014
http://epaper.dawn.com/DetailNews.php?StoryText=09_11_2014_181_007

HABIB PHYSIOTHERAPY COMPLEX
annouces 2 years Diploma Courses
Published in the DAILY AAJ - 20th Oct. 2014
http://dailyaaj.com.pk/epaper/epaper-detail.php?image=NzY1MzA=

Habib Physiotherapy Complex
and Mahboob School of Physiotherapy & Rehabilitation Sciences Introduction
Published by Daily AAJ on 30th June, 2014
http://dailyaaj.com.pk/epaper/epaper-detail.php?image=NTgxOTQ=